Foreclosed homes: three potential fixes for the crisis
Towering mortgage debt continues to fuel the housing crisis. What policies could help reduce the number of foreclosed homes?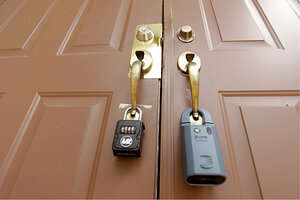 J. Pat Carter/AP
Four years after the housing market peaked, the foreclosure crisis keeps rolling on.
Six million borrowers could lose their foreclosed homes to the bank in the next two years, by some estimates. Other Americans are feeling the ripple effects in sagging home prices. And the problem persists despite numerous policies crafted to address it.
A new twist in this drama: Concerns raised about poor-quality legal documents have caused a sudden freeze in foreclosure proceedings by some lenders. Politicians have begun calling for all foreclosures to cease while the issue is being investigated. The upshot may be confusion and delays, but it won't end the foreclosure wave, which is driven by high unemployment and declines in home values.
Does more need to be done, and if so, what?
For the Obama administration and whoever controls Congress, that is a prime question.
Some housing experts are calling for significant new programs to help borrowers, but few see a quick or simple fix.
"I don't think the housing market is going to get any better until the labor market starts improving," says Patrick Newport, a housing economist at IHS Global Insight in Lexington, Mass. "Everything hinges on the labor market." (See story on job creation, page 32.)
In a way, America's record tide of foreclosures is just the most troubling symptom of the real problem: too much mortgage debt.
---