Stem cell exodus?
Embryonic stem cell funding flows again – for now. But stop-and-go funding and continued legal wrangling could push researchers of cells from human embryos to pursue other fields.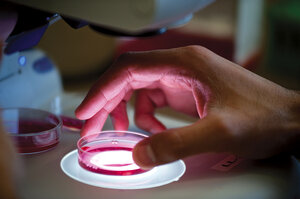 Ann Hermes/Staff
When a judge froze all federal funding for research with human embryonic stem cells on Aug. 23, Jason Spence had no time to lose. Dependent on federal funding for his project to create replacement liver and other cells for patients, the stem-cell researcher had nine days before his project – and salary – expired.
Dr. Spence and the director of his lab at Cincinnati Children's Hospital began calling everyone they could think of, from hospital administrators to private agencies. After his funding officially lapsed on Sept. 1, the executive director of another institute at the hospital stepped in with temporary funds. Spence's project was safe, for the moment.
Then on Sept. 9, a federal appeals court temporarily stayed the injunction, allowing federal research money to flow once again to Spence and 21 other scientists whose funding had already stopped. On Sept. 28, they ruled that funding will continue, pending the outcome of an ongoing lawsuit. The appeals court has expedited the trial, so funding will be in jeopardy again, soon.
This month-long saga illustrates America's ongoing struggle with human embryonic stem-cell (hESC) research. Supporters say hESC research offers the potential to solve so-called "incurable diseases." Detractors point out that it involves the destruction of human embryos that, in other circumstances, could grow into people. With all the moral objections swirling around it, and the stop-and-go funding it has endured, is hESC research worth pursuing?
That's what many researchers are asking themselves – and their answer could have profound economic implications for the United States.
---