Mortgage rates at historic lows: five reasons consumers still wary
Mortgage rates are at 4.21 percent for a 30-year fixed-rate loan, spurring home buyers and home owners to take advantage. But there remain some reasons for caution.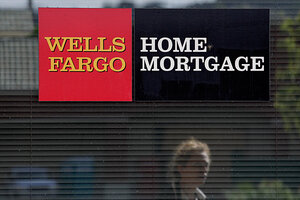 Jae C. Hong/AP
Mortgage rates are at a historic low – 4.21 percent for a 30-year fixed-rate loan.
In other words, since financial companies started keeping track of mortgage rates in 1971 – when GIs were being sent to fight in the jungles of Vietnam, Rod Stewart was belting out "Maggie May," and the median price of a home was $24,300 – this has never happened.
Such low rates have started to get many Americans to think about refinancing their mortgages or even getting off the fence to buy a house.
On Wednesday, for example, the Mortgage Bankers Association (MBA) said mortgage loan application volume rose by 14.6 percent from the prior week. And the MBA's measure of refinancing rose by 20 percent.
Mortgage brokers are calling potential clients urging them to take advantage of the low rates.
"It's amazing, I don't know why they are not jumping at the chance," says Dianne Crosby, a senior loan consultant at LaSalle Financial Services in Oakland, Calif. "If you already own a home, you can refinance and save money on your payments, and if you are renting, you probably purchase real estate now."
But, even with rates this low, economists say there are issues for many potential borrowers.
---