Legacy of the BP spill: What's a reputation worth?
The BP spill in the Gulf of Mexico caused a public outcry and savaged BP's share price. Image repair won't be easy.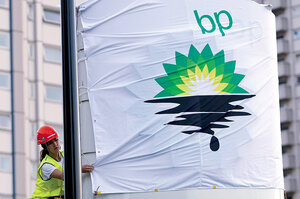 Alastair Grant/AP
The leak is plugged. Six months after the Deepwater Horizon exploded and sank, unleashing the worst oil disaster in the history of the United States, BP is no longer monopolizing the top spot on the news agenda. What remains, however, is a reputation as black as the oil it pumps.
Not for the first time, a petroleum giant has run into an oil-spill disaster. The last time it happened on anything approaching this scale, Exxon was able to extricate itself from the muck in Alaska's Prince William Sound and become an organization recognized for its safety programs and so obsessive about them that analysts tell stories about Exxon canteen workers charged with taking the temperature of the lettuce so "nobody gets hurt."
Can BP pull an Exxon? Does it need to?
The value of a corporate reputation is one of the toughest issues that companies have to wrestle with. Some guard their reputations jealously. Others sell products that many find morally questionable – think cigarettes – but find no lack of profits or investors. Interest groups pressure managers to exit businesses that could hurt their reputation or start ventures that could build it. The payoff for such moves is unclear.
"When you get to the soft side of the ledger it gets very difficult," says Harlan Loeb, director of crisis and issues management at Edelman, a public-relations firm. "There's a reflexive discomfort with reputation, because it's not easy to measure."
---