China's lock on market for rare earth elements: Why it matters
China said Wednesday it will 'continue to provide rare earths to the world,' but it also plans to cut exports. Here's a Q&A on what all the fuss is about.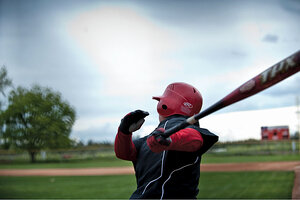 Newscom
From Capitol Hill and the Pent­agon to high-tech labs and assembly plants, seldom have such obscure names been such a hot topic of discussion. Names such as dysprosium, gadolinium, and praseodymium.
Prase-o-what?
They are mined from Earth's crust, and they are among a unique group of chemical elements vital to making many high- and low-tech products – from iPhones, hybrid cars, and jet-fighter engines to aluminum baseball bats. Such elements also are deemed essential to fielding a new generation of green-energy technologies.
The concern: The US imports almost all of these rare earth elements from China, which currently produces about 97 percent of the world supply. If China were to cut exports for geopolitical leverage, or reduce and tax exports in anticipation of meeting burgeoning internal demand, prices for these elements - and the products they appear in - could jump.
Indeed, over the past 24 hours reports from China have indicated the country could reduce its export quotas by 30 percent next year, following a 72 percent reduction during the second half of this year. Others suggest China might ease up a bit on export limits. And Japan has felt China's rare earth wrath for the past several weeks after China stopped exports of rare earth elements to the island nation over a boundary dispute.
---