Consumers, businesses boost US economy; 5 things we learn from GDP report
The US economy grew 2 percent in the third quarter, the Commerce Department reports. But imports limited the benefit to the GDP from increased consumer and business spending.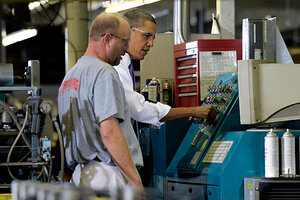 Susan Walsh/AP
Consumers and businesses gave the US economy a lift this summer, but it appears their taste for imports limited the benefit from their increased spending.
In the government's initial look at the economy's performance between July and September, the US Commerce Department reported Friday that the Gross Domestic Product eked out an annual growth rate of 2 percent, up from 1.7 percent in the second quarter.
Most of the growth came from consumer spending, companies adding to their inventories, business investment, and some left-over fiscal stimulus spending.
However, US consumers and businesses also purchased a lot of goods from overseas. Those imports lowered the Commerce Department's calculated growth rate by 2 full percentage points.
"The imports were the difference between strong growth and lackluster growth," says Joel Naroff of Naroff Economic Advisors in Holland, Pa.
Although the GDP report is a look through a rearview mirror, it also gives some views of what is happening to the US economy. Here are five things economists say can be learned from the report:
Consumers
---