Federal Reserve to buy $600 billion in bonds as hedge against deflation
The Federal Reserve hopes its Treasury bond buy will boost economic grown and inflation. Critics say it will raise prices and do little to help the economy.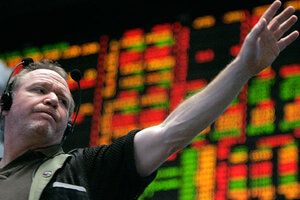 Frank Polich/Reuters
The Federal Reserve is trying to take out an insurance policy against the risk of deflation and a return to recession.
The price tag for that insurance: $600 billion.
That's the amount the Fed said Wednesday that it will spend over the next eight months to buy US Treasury bonds. The idea is to pump new money into a weak economy, boosting both economic growth and inflation.
Many economists expect the new policy to have a modestly positive effect on the economy, but critics say it will spark an unwelcome level of inflation without creating jobs. Reaction in the stock and bond markets Wednesday afternoon was muted, because the Fed had telegraphed its move in public statements over the past few weeks.
The central bank's policymaking committee, led by Fed Chairman Ben Bernanke, voted 10-to-1 to take new action. The bank's mandate from Congress is to seek both full employment and a stable overall price level, and the Fed said that "progress toward its objectives has been disappointingly slow."
In its statement, the Fed's policy committee said it plans to buy about $75 billion of long-term Treasury securities per month. The goal is "to promote a stronger pace of economic recovery and to help ensure that inflation, over time, is at levels consistent with its mandate."
The Fed's monthly purchase amounts are relatively modest, not a policy of shock and awe. The downside, for ordinary Americans, is that the policy may not provide a huge boost to growth. On the positive side, the move's modest scale shields the economy somewhat from the inflation risks that critics see in the plan.
How is it intended to work?
---