Jobs growth shows some zip; unemployment rate unmoved
The economy created more jobs than expected – 151,000 – in October, the best showing since May. Jobs are being added in many sectors, including health care, retail, and temp agencies. The unemployment rate, though, still stands at 9.6 percent.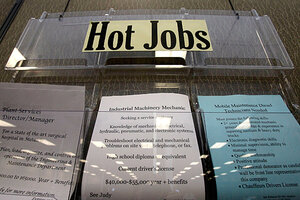 Patrick Semansky/AP
Finally, the news is better on jobs.
The economy created 151,000 jobs in October, the best performance since May, when the US government beefed up its ranks to take the 2010 Census, the Department of Labor reported Friday. Although the economy created more jobs, the unemployment rate remained unchanged at 9.6 percent, still quite high.
So, where are the new jobs?
Many are in the service sector, especially health care and retail establishments. Hiring from temp services is also relatively strong. And, economists say, there are signs that medium to small businesses are beginning to add to their payrolls.
"Job growth is not just concentrated in a few areas. There are a lot of places where more and more hiring is going on," says Joel Naroff, president of Naroff Economic Advisors in Holland, Pa.
Some of the segments in the economy that are hiring include:
• The health-care industry. In October, clinics, hospitals, and other health-care providers added 24,000 jobs. In fact, throughout the recession, the health-care business has continued to expand, without a down month since July 1999, notes John Canally, chief economist at LPL Financial in Boston.
---