Unemployment rate stuck at 9.6 percent. Will holiday hiring help?
Unemployment rate remains relatively high, but demand for temp workers is rising. Holiday hiring will add to the pool of temporary jobs. Still, few firms look set to 'staff up' significantly, as they watch for a shift in consumers' mood.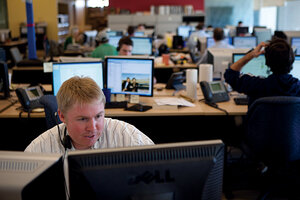 Melanie Stetson Freeman/Staff
The unemployment rate for October stayed stuck at 9.6 percent, but one bright spot in the jobs report is the rising demand for temp workers.
Of the 151,000 jobs added to the economy last month, 35,000, or 23.2 percent, were for temporary services, according to the Bureau of Labor Statistic. Says Bill Grubbs, chief operating officer of SFN Group, a national temp supplier based in Fort Lauderdale, Fla., "the pace of growth is the fastest we have ever seen."
Now the temp industry is getting ready for an even larger hiring spurt – hundreds of thousands of holiday-season workers.
Before December, CSN Stores, a Boston-based online retailer of home goods, plans to add 100 new workers, including software engineers, to help with promotions.
In Denver, Alpine Access is looking to staff up with more than 500 customer service "Internet athletes," who during the holidays will take sales orders and answer technical questions about computer programs.
---