Cyber Monday 2010: Tips for finding deals and avoiding mishaps
Cyber Monday features many good deals, from discounted prices to free shipping. Here are tips for shopping online efficiently and securely, from your desktop computer or your smart phone.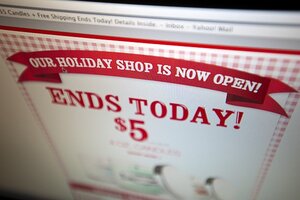 Newscom
Eager to chase down Cyber Monday deals, or just doing some online shopping before Christmas week arrives?
Here are some tips that some shopping gurus and consumer experts say you might want to consider. They might help you find a good deal, protect you from an unhappy experience, or just streamline your search.
1. Plug into your favorite stores. One route to bargains is getting connected directly to your favorite retailers. Big retailers typically offer email newsletters or Twitter alerts about special promotions. It's also easy to simply log into the website: At L.L. Bean's home page, for example, you'll see a link to "sale" items right near the top.
2. Let the web deliver deals. Expand your deal-finding power by using websites like Dealio.com, where you can search for promotions across a galaxy of stores. Dealio lets you tap into online coupons for products and categories.
RetailMeNot.com can also help you search for coupon codes that will cut the cost of online purchases. Other sites for comparing prices across the web include pricegrabber.com and shopping.com. The comparisons will often show how much shipping costs, or if it's free. Finally, CyberMonday.com is a retail site that pulls together lots of the latest deals.
---