Bush tax cuts 101: Would extension boost the economic recovery?
The short answer is yes. Forecasters anticipate that extending the Bush tax cuts, as well as other measures in the Obama-GOP deal, will breathe life into the economic recovery.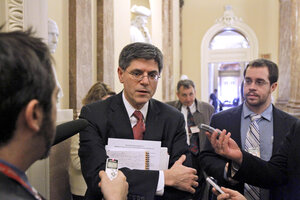 Alex Brandon/AP
The tax cut deal that President Obama struck with Republicans this week could provide a sizable boost to the US economy throughout the coming year.
However controversial the tax breaks are for their politics, that's the view of many professional forecasters.
For one, the proposed extension of Bush-era tax rates would prevent Americans from having to pay more taxes next year amid an already weak economic recovery, they say. Moreover, other parts of the deal struck between Mr. Obama and Republican leaders – notably a payroll tax cut and measures to help businesses – could add fuel to the recovery.
That's not to say the tax cuts are a panacea for all the economy's troubles. And with Mr. Obama under fire from his own party for agreeing to extend tax cuts for the richest Americans, the plan's passage by Congress in the days ahead isn't a sure thing.
Bush tax cuts 101: Who will get what if the Obama deal passes?
But forecasters say the tax deal could account for as much as 1 percent of economic growth in 2011 – a number that could be enough to rev up a now-tepid recovery and begin to reduce the nation's high unemployment rate.
Richard Berner, chief US economist at the investment firm Morgan Stanley, says the package of tax breaks would boost his forecast for economic growth next year to about 4 percent of gross domestic product (GDP), up from his current view of 3 percent. Beyond the direct effects of a cash infusion into the pockets of consumers and businesses, the tax cuts could have some benefits that are hard to forecast, he says in a report for clients.
---