Want to sell your gold, silver jewelry? Research first.
To get the best cash price for gold or silver jewelry, find out its purity and weight. Then compare offers.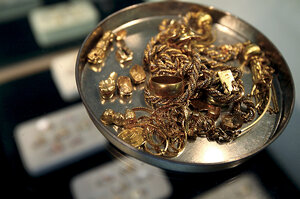 Newscom
Patrons of Aaron LaPedis's two Denver art galleries might like his taste in art, but they aren't always taking his advice on finances.
Mr. LaPedis has been urging people to hold onto most of their valuables until the economic slump is past and prices rise again. But in these hard times, his message is sometimes drowned out by hard realities.
"More people are offering to sell me stuff than wanting to buy, because they're in trouble," says LaPedis, owner of Fascination St. Fine Art. "For $10,000 paintings that they bought five or six years ago, they're lucky to get $1,000 or $1,500 for them. That's how much devaluation there's been, [but] they just want enough to pay their rent or pay their mortgages."
It's a familiar tale. Dealers in a range of luxury goods and collectibles say sellers strapped for cash are unloading cherished items, sometimes at significant losses. Yet those who must sell can boost their compensation considerably, observers say, if they'll only do a little research and compare offers.
Dealers, especially those specializing in high-end or hard-to-find goods, can afford to be choosy.
---