Credit cards? Nah! Americans moving to cash, debit cards.
Credit cards are losing their luster as a method of payment, especially among young adults.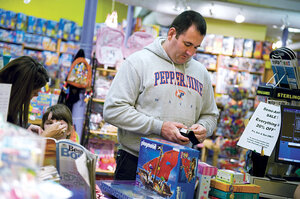 Sarah Beth Glicksteen/The Christian Science Monitor/File
Adam Baker shed no tears when he and his wife closed the last of their three credit-card accounts in 2008. "It was a really cool experience," says the Shelbyville, Ind., resident. "We don't need credit cards. And a 2 percent cash back reward" for using one "is not enough enticement."
Californian Josh McElravy stopped using credit cards early this year, using an online person-to-person loan to slash credit-card debt that peaked at nearly $10,000. "A debit card provides the convenience of plastic without worrying about banks charging you 20 percent interest" on unpaid balances, says Mr. McElravy, an electronic money transfers specialist at a bank in Santa Clara, Calif. This season, he can consider shopping for holiday gifts.
The credit card – that familiar 3-1/4-by-2-1/8 inches of plastic purchasing punch – is not exactly headed for history's trash bin. But it is losing its sheen as Americans' preferred method of payment. Since 2005, consumers have used debit cards more often than credit cards, says The Nilson Report, a payment-systems newsletter in Carpinteria, Calif. By 2016, it forecasts, they'll spend more on debit cards, too.
---