US house prices fall in October, set to tumble further still
A study of 20 US cities shows that house prices fell in all 20 in October. Atlanta was hit the hardest. Overall, house prices fell by 1.3 percent in the month.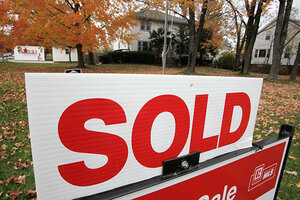 Amy Sancetta/AP/file
House prices fell across the US in October and have dropped roughly 2 percent nationwide since June, according to data released by Standard & Poor's Tuesday.
The news sent a sharp reminder that real estate remains a weak spot in the recovering US economy, and that the price declines that began four years ago probably aren't finished. One potential reason for the decline: the impact of a temporary tax credit designed to lure home buyers has faded.
Atlanta has fallen the furthest in the month since June. Prices in the Atlanta metro area are down 5.86 percent since then. That includes a 3 percent drop in October alone, which was also the most of any of the 20 cities in the S&P Case-Shiller index.
Prices fell in October in every city in the index, from Miami and Washington to San Diego and Seattle. Overall, the 20-city index was down 1.3 percent for the month, and has fallen 1.8 percent since June.
---