iPad: Can it save the magazine industry?
IPad, other tablet computers, and e-readers will create a 'reading revolution.' But publishers' revenues may lag.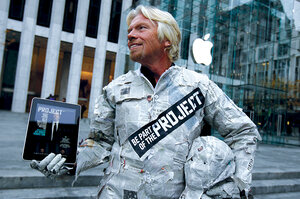 Mike Segar/Reuters
When the Consumer Electronics Show kicks off its annual event in Las Vegas next week, it will bask in the glow of more than 50 models of tablet computers either on display or announced. The new must-have gadget will warm the hearts of manufacturers, high-tech consumers, and – an unlikely group – magazine publishers.
The masters of ink and glossy photo see in the Apple iPad and its competitors a way to rejuvenate their slumping industry. With more than 100 million tablets and e-readers forecast to be in Americans' hands by 2013, publishers foresee a reading boom.
As a result, readers can expect digital magazines that are more up-to-the-minute, more interactive, and more eye-catching. The big unknown is how much these new readers will be willing to pay.
"I don't think that [the computer tablet] is the savior that some people have made it out to be, but it's an interesting opportunity," says Jeff Price, president and publisher of The Sporting News. In April, the New York-based biweekly began selling a daily digital edition for $2.99 a month. Since then, advertising is up 17 percent compared with a year ago. Mr. Price expects the new digital daily to turn profitable next year: "We're bullish in terms of 2011."
Reading time soars
---