US gas prices pass $3 mark. Will anything stop them from climbing higher?
Declines in domestic and foreign production are to blame for higher US gas prices, analysts say. Some in the industry see $5-a-gallon gas in 2012, while others say supplies will increase to halt the rise.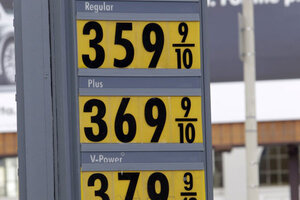 Paul Sakuma/AP
Increased demand and declining supply are expected to keep the average price of a gallon of regular unleaded gas above $3 throughout 2011, but increased production from global refiners is expected to keep prices from increasing much further.
The US Department of Energy reported this week that the average price crossed the $3 mark for the first time since October 2008. The average national gas price for regular gasoline rose to $3.05 per gallon, a 7 cent increase from the previous week, while diesel fuel prices reached $3.29 a gallon, a 4.6 cent increase.
Gas prices peaked along the West Coast, where the average tank of regular gas reached $3.20 per gallon, with California pumps reaching $3.30 per gallon. The lowest gas prices were reported in the Rocky Mountain region at $2.80 per gallon.
RELATED: Five cheapest hybrid cars
The recent rise in gas prices, analysts say, is largely due to decreased production both in the United States and abroad.
Some oil industry experts warn that gas prices still have a long way to rise.
Former Shell Oil President John Hofmeister predicted in a television interview this week that gasoline prices will reach as high as $5 per gallon by 2012, calling increased government regulations on domestic offshore drilling the main culprit.
---