Detroit's Big 3 all turn profits in 2010, pulling out of long skid
The Big 3 – GM, Ford, and Chrysler – each reported a profitable 2010. Their collective unit sales rose 19 percent from 2009, one of the worst years ever, as more consumers returned to showrooms.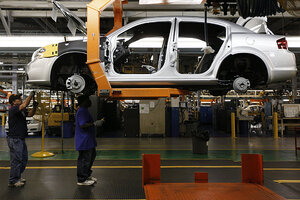 Paul Sancya/AP/File)
US automakers General Motors, Ford Motor Co., and Chrysler LLC each reported a profitable 2010 Tuesday, with combined unit sales of cars and light trucks topping 5.6 million, a 19 percent increase from the previous year.
The results are expected to help push the automotive industry – domestic and foreign manufacturers selling in the US – to its first profitable year since 2005.
Though year-end numbers were still pending Tuesday from some foreign automakers, total industry vehicle sales in the US are expected to reach 11.5 million units for the year, a 10 percent increase from 2009, which was the worst year since 1982, says Jesse Toprak, vice president of industry trends for TrueCar.com, which tracks vehicle pricing.
The total for 2010 is "still one of the lowest in recent history," says Mr. Toprak, but the sales improvement indicates that the "cost-cutting measures we've seen the industry make in recent years have really worked off handsomely.
"It shows that blindly going after volume in numbers has not worked out for car companies and that profitability should be the ultimate focus," he says.
---