Gas prices rise: Is Obama to blame?
Gas prices are 14 percent higher than a year ago, though US demand has risen only 0.7 percent. So what – or who – is driving up prices? The Heritage Foundation points a finger at Obama's environmental policies.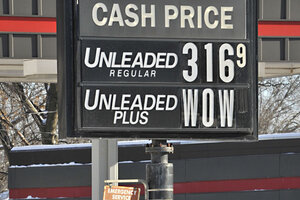 Jim Mone / AP
This is the time of year when gasoline prices normally go down.
Instead, prices at the pump have been rising, hitting $3.12 per gallon nationally on Friday, according to AAA, the motorists club. That's 39 cents a gallon – 14 percent – higher than a year ago.
Ironically, American demand for gasoline has risen only 0.7 percent in the past year.
So, what – or who – is responsible for the price increase? President Obama? China? The oil companies?
In the months ahead, the blame game is likely to pick up. Last week, the conservative Heritage Foundation said the Obama Administration and its allies are making things worse with their restrictions on oil drilling. Public Citizen, a Washington-based watchdog group, says the bad guys are not in Washington but on Wall Street, where commodity speculators are driving up the price of oil. And, on Friday, in a press conference, the American Petroleum Institute (API) laid some of the blame on rising demand from China and India.
Even though gas prices have been rising since Labor Day, it is not the chief worry of Americans – yet.
---