Google Offers vs. Groupon? Nah! Real rival to online coupons is bulletin board.
Google is considering a big move into online coupons with Google Offers. But its biggest rival isn't Groupon. It's the bulletin boards in the library and bank lobby, full of local ads.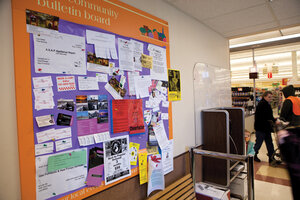 Melanie Stetson Freeman/Staff
Despite all the hoopla about online ads and coupons, most of America still advertises in amazingly archaic ways: a sign in a shop window, a business card on a bulletin board, a flier under the windshield wiper.
It's not only cheap – printed fliers and a few pushpins – it's also effective. "I've never paid for advertising," says Jeanne Pinsof Nolan, owner of The Organic Gardener in Glencoe, Ill. Five years ago, she posted a flier on a grocery store bulletin board and now has some 150 clients. "My advertising is my flier," she says.
This tranquil corner of the advertising world is huge – by one estimate 90 percent of ads are not digitized – and increasingly under scrutiny by online ad companies. One reason national ad giant Google was willing to pay a whopping $6 billion for online coupon company Groupon was the latter's ability to bring local businesses onto the Internet.
Now, Google is reported to be testing its own local ad service, dubbed Google Offers. By bringing mom and pop stores online, Google, Groupon, and all the other group coupon sites hope to reap a bonanza.
"The percentage of local advertising that is not digital – and that's most of it – will change because the cost of advertising online is really low," says Frank Mulhern, associate dean of research at Northwestern's Medill School of Journalism in Evanston, Ill.
---