Car recalls: Can Toyota keep American devotion?
Car recalls for 2011 got off to an early start.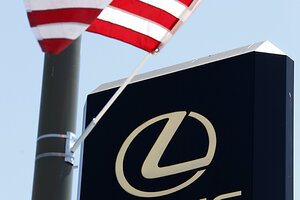 Reed Saxon / AP / File
Toyota's latest recall gives Americans one more reason to favor domestic automakers.
Right now, consumers, media, and the Obama administration are looking for ways to champion US manufacturers, said Gene Grabowski, the chair of the crisis and litigation group at Levick Strategic Communications—and the Japanese automaker's string of car recalls gives them an easy way to do so.
"It plays into the story that US autos are back, and the quality is high or better than overseas manufacturers, and that can hurt sales for Toyota," Mr. Grabowski said.
Last year, Toyota recalled millions cars worldwide for a host of different problems, so Wednesday's recall of 245,000 Lexuses in the United States is just one more on the list. Though Toyota was able to sustain the damage it suffered from last year's recalls, Grabowski said it might be starting to push its luck.
"This recall is really starting to strain that goodwill bank, and if it continues, we're getting close to an overdraft in the goodwill bank," he said.
If Toyota wants to keep US consumers' trust, it needs to "be out there talking about what the source of the recall is, putting it in the right context and perspective," Grabowski said.
---