Why Egypt protests unnerved the stock market today
The stock market today fell by 166 points, with investors worried about shipping through the Suez Canal and the possibility that protests will spread through the Middle East.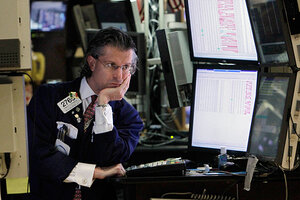 Richard Drew/AP
The rioting in Egypt unnerved Wall Street, which began to worry about oil supplies moving through the Suez Canal and the stability of other Arab governments.
By the time the selling ended, the Dow Jones Industrial Average had fallen 166.13 points, closing at 11,823.70, the first triple-digit decline of the year.
The selloff was at least a short-term reversal of a bullish rise that pushed the Dow over the 12,000 level twice this week during interday trading. Although it never closed over 12,000, it reached its highest level since June of 2008.
Some stock market analysts thought the market was probably overdue for a pullback since it had been climbing for at least the last two months.
"The market averages were ready to cool off," says Fred Dickson, chief investment strategist at D.A. Davidson in Lake Oswego, Ore. "All it took was an event."
---