iPhone choice: Is AT&T or Verizon better?
iPhone choice of carrier boils down to caps on data and tethering. If you're going to be tethering your iPhone, AT&T makes sense. Otherwise....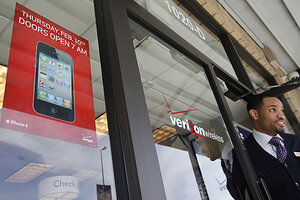 Paul Sakuma/AP
Now that consumers who want an iPhone have two carriers to choose from, people are wondering just what the difference is between the AT&T and Verizon iPhone voice and data plans.
The first thing to remember is that you're not choosing the iPhone for the voice plan. It wouldn't matter, either, because the AT&T and Verizon voice plans are basically identical: $40 for 450 minutes, $60 for 900 minutes and $70 for unlimited minutes.
So let's get to the meat of the argument: data plans. AT&T made the move to tiered data plans last year. That means there's a 2GB data cap for new users. The 2GB plan costs $25 per month, and AT&T also has an option to pay $15 for a paltry 200MB.
Verizon, on the other hand, has a single option: $30 per month for unlimited data.
---