Can US economy thrive as China rises?
The US economy retains top status, but Beijing's economic engine is shrewdly built – and set to propel China forward fast.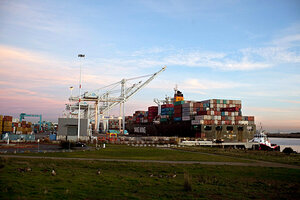 Beck Diefenbach/Reuters
President Obama's recent State of the Union speech carried a blunt message: Continued US prosperity depends on figuring out how to stay ahead of other nations that are out to eat America's lunch.
It's a theme that Mr. Obama has continued to hammer over the past week, and he cites China as a prime challenger -- a nation that's now home to the world's fastest computer and largest private solar-research site.
When it comes to China, many Americans agree. Some 47 percent now see it as the world's leading economic power, according to a January poll by the Pew Research Center. Only 31 percent chose the United States.
So just how big an economic threat is China? Is this really a "Sputnik moment" for America, as the president said? The challenge to America is real, but it also shouldn't be exaggerated. The notion that China is already No. 1 is flatly wrong, most economists and Asia experts say.
"It's a gross misperception," says Robert Sutter, a China specialist at Georgetown University. China is "just not a dominant economy."
Measured in dollar value of output, the US economy is still more than twice the size of China's. And because the US population is about one-quarter that of China, this means the typical person in China has a living standard far below US norms.
If you had to pick a global economic superpower, it's still America.
---