Some jobless don't look for jobs. They start a business.
New business starts hit a 14-year high in 2009. But succeeding is a challenge.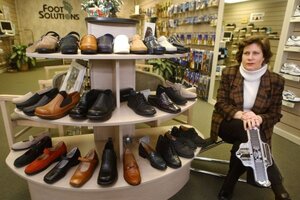 Mike Derer/AP/File
Since Nancy Halpern lost her job in human resources in 2008, she's been learning what separates those who succeed in self-employment from those who muddle through.
She's done well. A freelance executive coach in New York City, Ms. Halpern earns more than $250,000 annually, loves her flexible schedule, and takes six weeks of vacation each year. But several of her self-employed HR peers are struggling, especially those who've spent a lot to impress clients with rented office space and other accouterments.
"One had to lay off her administrative help during the recession," Halpern says. "Another was very price conscious when we went out to dinner, saying, 'What about a cheap pizza place?' "
As labor markets adjust to lean times, self-employment is an increasingly popular way to make a living. Before the recession, nearly 1 in 3 American workers was working for himself. Now, layoffs and the slow economy have pushed even more people to start their own businesses as writers, artists, electricians, shopkeepers, software programmers, and so on. They have no boss to please, no benefits (except what they buy for themselves), and no income if clients don't pay.
Success remains as elusive as ever, however. Even in good times, some 40 percent of the jobs created by start-up firms were gone five years later because those firms had disappeared, according to researchers at the University of Maryland and the US Census Bureau. Those striking out on their own must create work for themselves and manage the business dimension of their enterprise if they want to thrive.
"If you don't take on the responsibilities of being a business manager, then sooner or later you're going to have difficulties," says Gene Fairbrother, a Dallas consultant who works with the National Association for the Self-Employed.
---