Verizon iPhone: The phone to buy when all else fails?
After more than three years since AT&T got the iPhone, Verizon started carrying the Apple device on Thursday. For some, a Verizon iPhone is a dream come true. But some new iPhone owners admit that this was a purchase of last resort.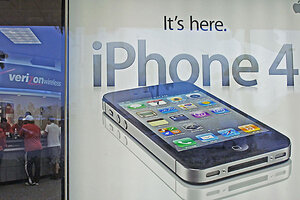 Joe Skipper / Reuters
Standing outside a Verizon store in downtown Boston, new iPhone owners seem to share a common message: You don't buy a Verizon iPhone to be on the cutting edge. You buy it because your toddler picked off the keys from your BlackBerry, or you've seen your spouse stand on one foot and lean out the window just to hold a couple bars of AT&T service. Your old phone has failed you. It's time for a change.
At least those are the reasons Sarah Kuper gave shortly after purchasing a Verizon iPhone on the day of its release.
What happened to her old phone? Ever since her 1 year old got a hold of the BlackBerry, she's had to do without question marks and or the V key. Maybe it's time to own a phone without a physical keyboard – one safe from little, prying fingers. But she's been hesitant to buy the touchscreen iPhone from AT&T. On too many occasions, she's watched her husband's acrobatic performances when trying to get an AT&T signal in their home.
"I've been a stubborn mule," says Ms. Kuper. "I was basically waiting for it to come to Verizon."
After more than three years of exclusivity with AT&T, the Apple iPhone 4 went on sale through Verizon Thursday morning. The handset is available online and at Apple stores, Best Buy, Wal-Mart, and some Verizon outlets. The 16 GB device sells for $199.99 and the 32 GB version costs $299.99. Both require a two-year contract.
---