Women's share of jobs slipping
Once poised to become a majority of the workforce, women haven't found as many jobs as men during the recovery. But some signs point to an eventual rebound.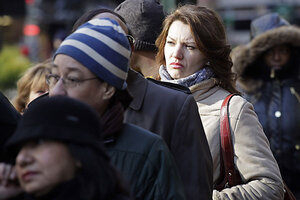 Mark Lennihan/AP/File
The great recession was so hard on male workers that some called it a "he-cession." Male unemployment peaked at 11.4 percent. So many men were pushed off employment rolls that by October 2009 women held a record 49.96 percent of the jobs, within a hairbreadth of a historic first for the United States.
Some outlets couldn't wait to trumpet the news: "Women are about to become the majority of the nation's paid workers," Ms. Magazine reported that month.
In fact, the great gender switch never happened. October turned out to be the high point for women and their job share has been slipping ever since, as male-dominated industries like manufacturing recovered and female-dominated ones like education were cut as cash-strapped states slashed budgets. Even if women do gain the upper hand in a few years, that may not eliminate chronic inequities, such as lower pay and underrepresentation in management.
Women may need something more, like a new generation of workers.
"While it's true the paygrade isn't high in the industries women generally go into, the average woman graduating college in major cities like New York, London, Munich is actually outearning the average man, which is new in recent years," says Maddy Dychtwald, cofounder of Age Wave, a research and consulting firm in Emeryville, Calif., and coauthor of a new book "Influence: How Women's Soaring Economic Power Will Transform Our World for the Better." "I think we're seeing the beginning of an important flip-flop."
---