Apple app store: Changes roil users
Apple begins charging 30 percent tax at its app store, which has some app publishers angry.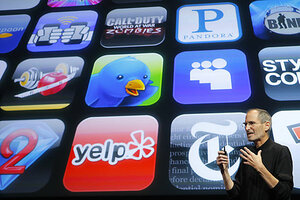 Robert Galbraith/Reuters/File
After nearly a year of seemingly easy cooperation and mutual admiration between Apple and many content providers happy to deliver their services to a new popular platform, Apple CEO Steve Jobs has changed the rules ─ and the resulting backlash could affect what appears and doesn't appear in Apple's App Store.
The new revenue-sharing structure unveiled Tuesday (Feb. 15) forces publishers who charge subscriptions outside of the app to either pay up to a 30 percent tax on subscriptions purchased from inside the App Store – or not use the service. In addition, Apple alone will receive customer data, including names and contact information.
"Our philosophy is simple: when Apple brings a new subscriber to the app, Apple earns a 30 percent share; when the publisher brings an existing or new subscriber to the app, the publisher keeps 100 percent and Apple earns nothing," Jobs said in a statement.
A looming showdown?
The tax, in which content providers essentially pay for the privilege of conducting business in Apple's network, has already rankled some developers — and could spark an even bigger showdown, pitting the media titans that roam Silicon Alley against the current kings of Silicon Valley.
So far, however, bigwig media publishers have remained mum. But the fact that Apple's press release did not include any launch partners suggests the silence doesn't represent complacency.
Still, not everyone sees the icy silence as a sign of a looming battle.
---