Can you ditch your life insurance?
In hard times, more people are canceling their life insurance coverage. Here are some cheaper alternatives.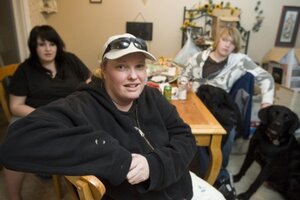 Darin Oswald/Idaho Statesman/MCT/Newscom/File
It's enough to make an insurance agent tremble: Millions of cash-strapped Americans are saving money by going without life insurance.
Ownership of life insurance has reached a 50-year low, according to industry research firm LIMRA. Thirty percent of households (35 million) aren't covered, up from 22 percent in 2004. Among households with minor-aged children, 11 million have no coverage.
Insurance salespeople have sounded the alarm, warning that penny-wise and pound-foolish habits could leave loved ones devastated if a death occurs. Financial advisers agree that many Americans probably should have at least a little life insurance. But experts also urge people who are pressed for cash to keep in mind the ultimate goal: limiting risk for survivors. Life insurance isn't the only way to accomplish that goal.
"Say you didn't have any kids, your spouse has a law degree, and you don't owe a lot of money in your business. You may not need to get life insurance," says Bill Gustafson, senior director of the Center for Financial Responsibility at Texas Tech University in Lubbock. "Because she's got human capital, she'd be able to enter the labor force if something happens to the other person."
So what are other ways to limit risk for the survivors? Start with estate planning, financial advisers say. People with dependents should use such instruments as wills and trusts to direct assets in a tax-efficient manner to survivors, according to Stuart Armstrong, a certified financial planner in Needham Heights, Mass. Those who take such steps might still need some life insurance, he says, but they may not need as much – or may not need any if assets are substantial enough.
---