Apple after Steve Jobs? Shareholders press, but the board pushes back.
With Apple founder Steve Jobs again on medical leave, shareholders vote down a resolution demanding a public succession plan, but observers say the depth of investor concern is clear.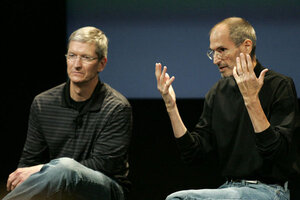 Kimberly White/Reuters/File
Every time Apple's visionary founder Steve Jobs has gone on medical leave, the question has roiled company shareholders: Who will lead a post-Jobs Apple?
On Wednesday, with Mr. Jobs again on leave, this time since Jan. 17, Apple shareholders voted down a resolution demanding that the technology giant create a public succession plan for the firm's top executive. The board of directors had voiced strong opposition to such transparency about its management bench, but many with long experience in the art of "Steve-watching," say the vote was an important indicator of the depth of investor concern, adding that the publicity around this latest organized effort to press the board underlines the importance of resolving the uncertainty about the company's future.
Apple's Board of directors has consistently refused to publicly discuss succession issues in the wake of Jobs's health problems, says Prof. James Post of the Boston University School of Management.
Apple is a wonderful company in many respects, Professor Post says, "but corporate governance is not one of them." Jobs's central and critical role at Apple makes the state of his health a "material fact," he notes.
---