New Zealand earthquake: Economy takes a hit, too
New Zealand earthquake losses could reach $12 billion or more, because of the huge impact from indirect losses.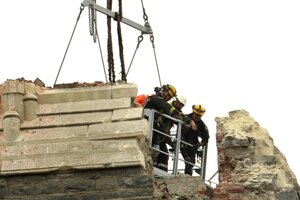 Rob Griffith/AP
As New Zealand begins to pick up the pieces from Tuesday's huge earthquake in Christchurch, it's beginning to tote up the magnitude of the economic toll. There are direct losses:
The government's natural catastrophe fund expects to pay out $1.5 billion (NZ) -- $1.1 billion (US) -- to residential property owners.
Private insurers are expected to pay out twice that amount in residential claims beyond the government's maximum payouts.
Commercial losses and business interruption claims will add to private insurers' payouts, estimated to total somewhere between $3.7 billion (US) and $8.4 billion.
Indirect economic losses, however, could double or even triple those totals, especially in the next few months. That's because earthquakes tend to have a bigger impact on infrastructure, such as roads and water, than other large-scale natural disasters, such as hurricanes. As of Friday morning local time, for example, 32 streets and 13 bridges were closed to traffic, according to Christchurch City Council.
That's a blow to businesses trying to move products in and out of the area.
"They have to reroute to find a second-best transportation network," says JiYoung Park, a professor of urban and regional planning at the Universtiy of Buffalo's school of architecture and planning. "The transportation costs will be increased."
---