Toyota recall: Final fix for sudden acceleration?
Toyota recall involves nearly 2.2 million vehicles. US government closes investigation with latest Toyota recall.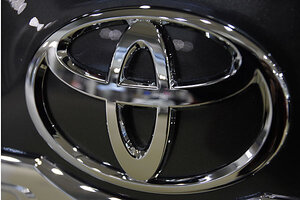 Shizuo Kambayashi/AP/File
By recalling nearly 2.2 million vehicles Thursday, Toyota is hoping it has finally gotten its arms around sudden-acceleration problems that have dogged the automaker for more than a year.
In announcing two new recalls and a huge expansion of a 2009 recall in the United States, the Japanese automaker has convinced federal regulators that it had taken a close look at their complaint data and addressed the outstanding issues. The National Highway Traffic Safety Administration (NHTSA) said that, in the wake of Thursday's recalls, its investigation of Toyota's sudden-acceleration cases is now closed.
"We saw this as an opportunity, with NHTSA's urging, to make a deep dive into the NHTSA database," says Brian Lyons, a Toyota spokesman. Already, the company had seen an 85 percent drop from last spring in the number of customers bringing their cars into dealerships because they had a sudden-acceleration problem or were worried that they had a problem. By examining the complaints still being reported in the federal database and addressing them with Thursday's recalls, the company hopes to further reduce sudden-acceleration complaints, Mr. Lyons says.
NHTSA had already announced earlier this month that its 10-month study had found no electronic flaws in the automaker's acceleration system that could produce sudden acceleration.
That left "sticky" accelerators and mechanical interference (basically, floor mats or carpeting components jamming accelerators) as the only known causes for sudden acceleration, the agency said, a problem that has sparked some 3,000 complaints and dozens of lawsuits.
Since 2009, Toyota had recalled more than 14 million vehicles worldwide – nearly 8 million in the United States alone – to fix those two issues.
On Thursday, Toyota added more than 2 million vehicles to the US tally, all involving mechanical interference. The two new recalls involve new problems where plastic carpeting covers, rather than floor mats, pose a potential hazard.
---