Enter the iPad 2 era: Is this a gadget, a computer, or a TV? Yes.
Apple CEO Steve Jobs introduces the iPad 2, which has new features that further blur the lines between technologies like televisions, computers, and smartphones.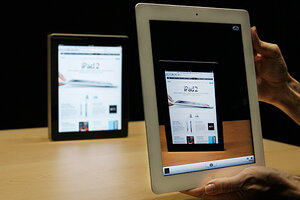 Jeff Chiu/AP
Apple unveiled its next-generation iPad Wednesday. It's a leap forward for tablets and a further blurring of lines among high-tech devices.
Is it improved as a portable communications device? Yes.
Does it offer new computer capabilities? That too.
Can it be a TV? Yep, now with enhanced small-screen effects and the option of a $39 connector to play videos on a flat-screen television.
From its inception, the iPad has symbolized this kind of blend – delivering new versatility in a new format. But the iPad 2 pushes further down that path, and it comes as other devices are also carving out their own new niches in the tech ecosystem.
SOUND OFF: Is the iPad2 worth having or will you spend the money some other way?
Motorola's new Atrix smartphone fits in a pocket while a user is on the go, and then can serve as a low-end computer at home. (You dock it into a laptop-style monitor and then use a keyboard to browse the web, but the phone is still doing the work.)
The iPad has spawned a tide of other tablets in a variety of shapes and flavors. Most competitors lag behind Apple so far, but Motorola's Xoom (running Google's Android software) and iPad 2 are similar in screen size and in some other important ways. Tech analysts say Apple has an edge for now in pricing and available applications.
---