Stocks slump after February jobs news
Unemployment rate falls to 8.9 percent, nearly a two-year low, as US adds 192,000 jobs.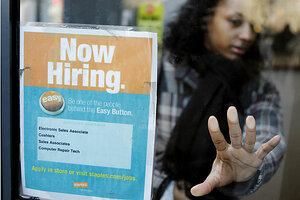 Lucas Jackson/Reuters
By CNBC.com
Stocks slumped despite news of strong gains in February job a day after the blue-chip index soared on solid economic news and falling oil prices.
The Dow Jones Industrial Average fell less than 10 points a day after the market rose more than 1.5 percent in the wake of a robust report on jobless claims.
Among Dow components, Boeing , DuPont,]and Hewlett-Packard led decliners, while Intel and Merck gained.
The S&P 500 and the Nasdaq also fell. The CBOE Volatility Index, widely considered the best gauge of fear in the market, fell below 19.
The Labor Department reported nonfarm payrolls added 192,000 jobs in February, while the private sector added 222,000, largely in line with expectations. The unemployment rate fell to 8.9 percent, the lowest since April 2009.
The number of jobs added in January rose to 63,000 from the 36,000 first reported.
Economists surveyed by Reuters expected payrolls to rise by 185,000 with some investors expecting a reading above 200,000. The unemployment rate was expected to have risen to 9.1 percent from 9 percent the month before.
---