'Green' funds, in the red, buy not-so-green stocks
Some 'green' funds are diversifying to boost returns. Does that undercut their mission?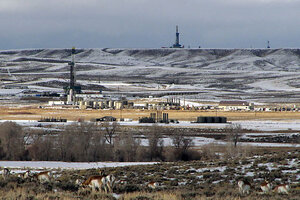 Mead Gruver/AP/File
It's been a long, cold stretch for mutual funds driven to make money by fighting global warming. The chill has forced a dilemma for the funds: Should they stick with the same high-minded strategy, or warm to a new approach?
Investors have reason to complain. Funds focused on renewable energy have been in the cellar, posting three-year returns in the bottom fifth percentile of their respective categories, according to fund tracker Morningstar. Those with the greatest exposure to wind and solar stocks have had the poorest returns of all.
"They've been among the worst per-formers," says David Kathman, a Morningstar analyst who covers socially responsible mutual funds.
Under pressure to do better, some "climate funds" have been revamping their portfolios. Consider the DWS Climate Change Fund, based in Kansas City, Mo., which lost 10.7 percent over the three years ending Dec. 31, 2010. Disheartened investors pulled out $34 million over the past year, leaving the fund with just $39 million in assets as of Jan. 31.
DWS has responded. Gone from its Top 10 holdings are the three solar and wind stocks that made up 12.5 percent of the portfolio in July. It has less exposure to renewables, is more diversified, and has added industrial conglomerates, such as Siemens and General Electric. DWS did not respond to requests for comment.
Other funds have followed similar paths. One year ago, F&C Global Climate Opportunities Fund had 9 percent of its holdings in wind and solar stocks. Now, the London-based fund has just 1 percent in solar, zero in wind. Most of the fund's alternative-energy investments are in natural gas, which critics argue is no "alternative" because it's a fossil fuel whose emissions exacerbate global warming.
---