Jim Tressel fiasco: Selling NCAA memorabilia? Wait.
Jim Tressel and six Ohio State players were tripped up by the NCAA's time-sensitive memorabilia rules. It's only illegal to sell it if players are still in school.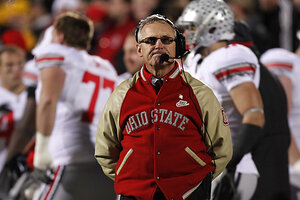 Charlie Neibergall / AP / File
Some athletes possess a golden touch off the field as well as on it. A high-profile athlete can add value to gear just by owning it – and selling it for a pretty penny.
But if they're in college, there's a catch. Players can't sell memorabilia while they're in school, according to NCAA rules.
It was the violation of that rule that caused the NCAA in December to suspend Ohio State quarterback Terelle Pryor and four others for the first five games of the 2011season and suspend another player for one game. On Tuesday, the university also suspended coach Jim Tressel for two games and fined him $250,000 because he didn't report the matter after receiving e-mails about it last April.
Coach Tressel was publicly reprimanded and apologized Tuesday night, saying he had let some people down.
The Ohio State players involved in the illicit trade sold jerseys, championship rings, and trophies to the owner of a local tattoo parlor, making more than $7,000 and receiving $500 worth of discounted tattoos. Besides the suspension, they were required to pay back the money they received.
Memorabilia experts say the players made a dumb move for two reasons. Had the players waited to sell the items until they had graduated, they would not have violated NCAA rules. Also, they could have received a lot more money for their memorabilia.
The championship rings, uniform pieces, "gold pants" charms, and awards that the men sold are worth two or three times as much as they received for them, says Phil Castinetti, owner of a sports memorabilia shop in Saugus, Mass.
---