Aftershocks: Damage only beginning for Japanese business
Aftershocks for the economy include lost man-hours and sales. Japan will have to quickly rebuild infrastructure damaged by the quake and its aftershocks if its businesses are to rebound soon.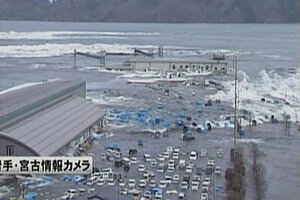 TBS via Reuters TV/Reuters
For Japan, the worst of the earthquake damage has already happened. For Japanese businesses, it's only beginning.
The quake, the biggest to hit Japan in centuries, and the resulting tsunami that swept homes and cars out to sea, has caused tens of billions of dollars of property damage, by some early estimates. But the economic aftershocks – the longer-term damage to the island nation's businesses – won't be known for months or years as the indirect effects of the quake kick in.
In natural disasters of this magnitude, business interruption can be huge. Damaged factories and offices mean that goods don't get produced and sales don't happen. Damaged roads and lack of power mean that workers can't get to their jobs or work reduced shifts. Eventually, government aid and business catch-up, mitigate some of these losses.
For export-reliant Japan, the depth of the downturn in business will depend on the speed with which its transportation facilities and ports can come back on line.
"The business interruption is pretty significant, especially when there is a lot of property damage," says Adam Rose, a research professor at the University of Southern California's policy and planning school and an expert on the economic impacts of large-scale disaster. "There's no question of it being devastating to that province [hit by the tsunami]. As far as Japan as a whole is concerned, it's not small. But it's probably not devastating."
---