Japan's 8.9 earthquake lowers oil prices, but they're still above $100 a barrel
8.9 earthquake closes some Japanese refineries. Signs of quiet on planned 'day of rage' in Saudi Arabia also dampen oil prices, but longer outlook is still for strong demand, uncertain supplies.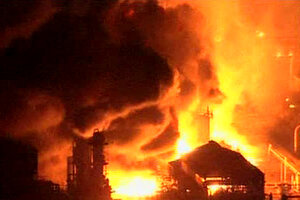 NHK TV / AP
Oil prices fell Friday after a magnitude 8.9 earthquake struck Japan, one of the world's leading oil importers. The quake promises to slow Japanese refining activity, but energy analysts say the nation will continue import petroleum products as a recovery and rebuilding phase begins.
Those realities were reflected in financial markets Friday. Oil neared $99 per barrel as trading began in New York, down from the prior day's close of $102.70 (US prices for April delivery), according to data from Reuters. But by mid-day, that price had moved back above $100, as traders continued to assess quake impacts and events in Arab nations.
Also dampening oil prices Friday: Streets in Saudi Arabia stayed relatively quiet despite calls for a "day of rage" by government critics.
Oil markets are still operating in what some traders call a "new normal," reflecting heightened uncertainty about the potential course of political unrest in the Middle East, and about whether supplies from one key producer, Libya, will be interrupted for a protracted time due to civil war. At the same time, investors generally expect that the government will remain in place in oil-market linchpin Saudi Arabia.
---