Stocks end week down, shaken by global woes
The Dow average rose 59 points on Friday, but was down 1 percent for the week.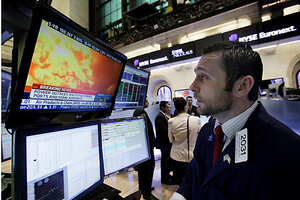 Richard Drew/AP
By Abby Schultz, Special to CNBC.com
Stocks ended higher for the session, although lower for the week, amid concerns over global growth and Middle East unrest, and in the wake of a devastating earthquake in Japan.
The Dow Jones Industrial Average gained 59.79 points or 0.50 percent to close at about 12,044.40 on Friday. For the week, the blue chip index fell 1.03 percent.
Among Dow components, McDonalds was the best performer, gaining almost 1 percent for the week, while Chevron was the worst, falling more than 3.5 percent.
The S&P 500 gained 9.16 points or 0.71 percent to close at 1,304.28 on Friday. For the week, the S&P 500 fell 1.28 percent.
AT&T rose the most on the broad market index for the week, while Exxon Mobil fell the most.
The tech-heavy Nasdaq rose 14.59 points, or 0.54 percent, to close at 2,715.61 Friday. For the week, the Nasdaq fell 2.48 percent.
The CBOE Volatility Index, widely considered the best gauge of fear in the market, fell 6.6 percent this week to 20.31.
---