Suddenly, spotlight on earthquake entrepreneur
Earthquake entrepreneur George Dickson hopes to change the way the world gets its earthquake warnings.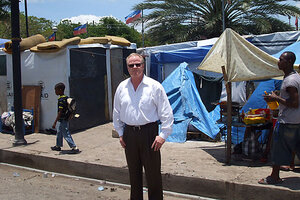 Courtesy of Seismic Warning Systems
George Dickson never knows where the next phone call will come from. It might be from Chile, Mexico, Haiti or New Zealand. This week, was Japan.
As CEO of California-based Seismic Warning Systems (SWS), Dickson is in a delicate position. Each time tragedy strikes in the form of a massive earthquake, his company, which sells earthquake early detection technology, is thrust into the spotlight.
Since last week's earthquake in Japan, Dickson has fielded calls from potential clients all over the world — and, of course, from the media.
The interest in his company is certainly good for business. In the long run, Dickson hopes, it may also change the way the world thinks about earthquake warning systems.
A different approach
SWS's technology, which is currently being used in more than 40 commercial locations in California, is called QuakeGuard 300. It has some notable customers, including the U.S. Department of Energy's Lawrence Berkeley National Laboratory, NASA's Dryden Flight Research Center and the day care center at Cisco's California headquarters.
---