Beyond Libya: Four factors affecting oil prices
Oil prices changed little despite high trading volume on Friday, as oil traders eyed developments in four nations: Libya, Yemen, China, and Japan.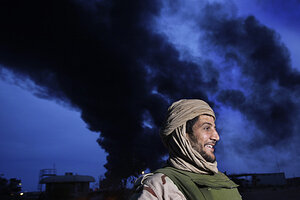 Ben Curtis / AP
Oil markets churned on Friday as traders tried to figure out how oil's price would be affected by four different international events: the situation in Libya, violence flaring up in Yemen, the continuing nuclear drama in Japan, and the Chinese government's decision to raise interest rates.
With so much uncertainty, many traders decided to lighten their positions going into the weekend – but others decided that oil prices will rise, so increased their position. The result was high volume with little price movement. By 1 p.m., the price of oil was very slightly down at $100.69 per barrel on the New York Mercantile Exchange in New York.
Oil prices have stayed around $100 per barrel for the past two weeks, reaching a high of $105.44 on March 7. International developments appear to have stalled oil's rising prices as market analysts try to decipher the impact of recent events.
"There is so much happening, there is so much more historic up-and-down risk than I have ever seen before," says Phil Flynn, senior market analyst at PFG Best Research in Chicago.
Libya
Many traders kept their eyes on the shifts taking place in Libya. Shortly after the UN authorized military action against Col. Muammar Qaddafi, the Libyan foreign minister declared a unilateral cease-fire.
---