Natural gas prices heading up if post-disaster Japan imports more?
Natural gas prices have climbed since the Middle East uprisings began in January. Japan may well need more natural gas to replace lost nuclear power, but US is mostly insulated from price shocks.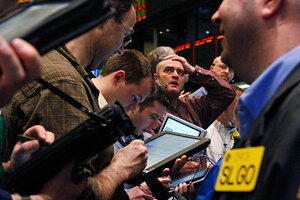 Bebeto Matthews/AP/File
When Japan starts to rebuild, it will be looking to replace the nuclear-generating capacity it lost to the earthquake and tsunami – and natural gas is likely to be one of the solutions.
Already a significant importer of natural gas, Japan could rely more heavily on the fuel to run generators, which could then supply Japanese industries with electric power. Post-disaster electricity shortages have prompted many large Japanese companies to curtail production, possibly leading to a worldwide shortages of some electronics and auto parts.
If Japan does opt to import more natural gas, the shift might result in modestly higher natural-gas prices on the world markets next year, energy analysts say. But Americans who use natural gas would be spared a price shock, they predict, because the US is largely self-sufficient in natural-gas production.
"The US natural-gas market is an isolated market," says Vivek Mathur of Energy Security Analysis Inc. (ESAI) in Wakefield, Mass. "It is different in terms of the world supply and demand fundamentals."
However, there is likely to be some modest effect, says Damien Gaul, an industry expert at the Energy Information Administration (EIA) in Washington. Some suppliers of liquified natural gas (LNG) to the US might instead decide to sell their shipments on the international market, reasons Mr. Gaul. "There might be a lessening of supply but not in a meaningful way," he adds.
---