Japan, Libya crises won't derail recovery, unless...
A longer-than-anticipated shutdown of Japan's factories – or the spread of fighting in Libya to major oil producers – could stop a fragile economic recovery in the developed world.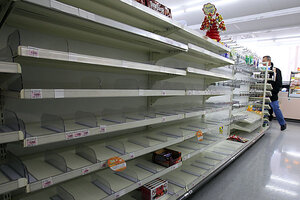 Lee Jin-man/AP
The developed world's economic recovery was looking fragile even before the earthquake and tsunami hit Japan and revolt engulfed Libya. These twin crises have devastated those countries, rocked markets, and introduced new uncertainties into the world outlook.
Are they enough to derail the recovery?
From what is known so far, the answer seems to be no. But these twin crises reduce the margin for error that nations have in adapting to them or weathering another shock.
"Assuming that the unrest in the Middle East has peaked and that the Japanese nuclear crisis ends without a major radiation disaster, the US economy will continue to gain traction and recover," wrote Mark Zandi, head of Moody's Analytics, in a recent editorial. "But that's provided nothing else goes wrong."
There are plenty of risks out there – sovereign debt problems, concerns about a slowdown in China, etc. Even within Libya and Japan, there are unknowns that could create far more havoc than buoyant stock markets in the United States and abroad seem to expect.
---