Qaddafi's assets include luxury homes around world
Libyan dictator Muammar Qaddafi and his family own expensive real estate in London, New Jersey, and around the globe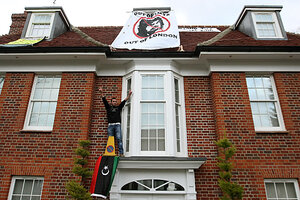 Dominic Lipinski / AP / File
By Scott Cohn, Senior Correspondent, CNBC
Winnington Close is a quiet, leafy cul de sac in one of London's most exclusive neighborhoods, Hampstead Garden. It has seven stately brick homes, most with a Mercedes or two in the driveway.
This kind of luxury does not come easy in London, and it does not come cheap. Take Number 7 Winnington Close, for example. With eight suite-style bedrooms, a marble foyer, a swimming pool and jacuzzi and a private movie theater.
The property, and others in the UK and around the world, including a wealthy New Jersey suburb, are among the real estate holdings of the Libyan government, dictator Muammar Qaddafi and his family.
The Winnington Close home last sold for a reported $16 million, to a company based in the British Virgin Islands. But locals know it as the home of Saif al-Islam Qaddafi, the second son of Muammar Qaddafi, and until not long ago, his heir apparent.
A neighbor who did not wish to be identified said members of the Qaddafi family used the house only occasionally, but when they did, "we all felt safe because there were always two armor-plated black Mercedes parked outside."
---