Warren Buffett protegé hit by allegations of illegal stock trading
David Sokol, an executive in the Warren Buffett firm, Berkshire Hathaway, gained $3 million when the company bought a chemical firm in which he held stock. Some Wall Street experts suggest the federal government should investigate Sokol's stock trading.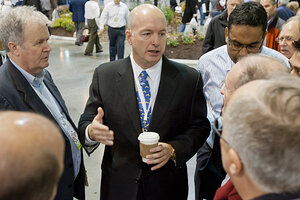 Nati Harnik/AP/File
Questions about whether a senior executive in Warrent Buffett's company acted unethically or even unlawfully is causing some commentators to wonder if the image of the world-famous investor, called the "sage of Omaha," has been tainted.
On March 14, Mr. Buffett's company, Berkshire Hathaway Co., announced it was buying the chemical company Lubrizol for $9 billion. Unbeknownst to investors, Buffett got the idea to buy Lubrizol from one of his executives, David Sokol, who had already personally purchased shares in Lubrizol.
Once Berkshire Hathaway bought the company, the stock price soared, and Mr. Sokol pocketed an extra $2.98 million in profit.
Did Sokol engage in insider trading? Or perhaps some form of front-running, investing in a stock before the clients buy it? Was it perhaps just a breach of corporate ethics? Or was there is nothing wrong with the transaction at all?
Sokol, once considered an heir apparent to Buffett, resigned from Berkshire on Wednesday. But hardly anyone involved in the securities business thinks that will be the end of the affair.
"The Securities and Exchange Commission [SEC] has a duty to look into it and hopefully determine if it was appropriate," says Alan Kaufman, a partner at Kelley Drye & Warren, a law firm in New York that specializes in white-collar cases.
---