Electric cars? Sales are blah. But other 'green' cars surge.
Electric cars aren't selling well. But Ford and GM get boost from fuel-efficient models that aren't electric cars.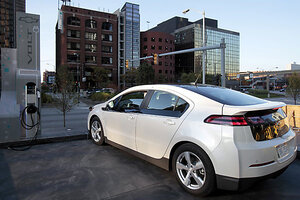 Rebecca Cook/Reuters/File
Gas prices weighed on US car buyers in March, pushing up sales of fuel-efficient vehicles like GM's Chevrolet Cruze and the Ford Fiesta.
Electric cars? Not so much.
General Motors couldn't tout sales of its Chevy Volt in its monthly sales announcement Friday. For all its gas-pump savings, the electrically powered Volt is off to a slow start in sales, with just 608 units shipped in March and 1,210 so far this year.
Many consumer apparently see cars like the Volt or the all-electric Nissan Leaf as a novelty, with unproven performance and reliability
Still, the industry has seen a distinct shift in consumer preference toward greener autos.
RELATED: 2011 safest cars announced: Is your dream car a top pick?
March sales numbers showed an 11 percent sales gain for GM (compared with March 2010) and a 19 percent jump for Ford. Both companies' totals were boosted by sales of fuel-efficient vehicles.
---