Unemployment rate drops 0.1 percent, showing 'positive momentum' in job market
The United States added 216,000 new jobs in March, mostly in the private sector job market, driving the unemployment rate down to 8.8 percent.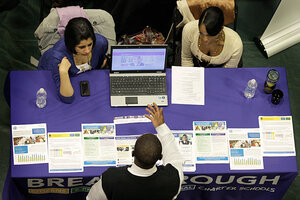 Amy Sancetta/AP
Call it welcome news for the economy: in March the nation added 216,000 new jobs.
At the same time, the unemployment rate slipped by 0.1 percentage points to 8.8 percent.
According to the Bureau of Labor Statistics, the job market gains took place in the service sector, such as restaurants and hotels, health care, temp services, as well as mining and manufacturing. The only lagging areas are construction and state and local governments.
The improved jobs picture took place even though the price of oil and gasoline rose through the month and consumers were beset by the uncertainty of news about the earthquake disaster in Japan.
Instead, the economy seems to be benefiting from record exports, better-than-expected retail sales and healthy spending on new plant and equipment.
This marks the second consecutive month of healthy job gains, prompting some economists to predict the nation was now entering a job creation phase that will carry economic growth through the year.
"We are not having a double-dip recession," says John Silvia, chief economist at Wells Fargo Securities in Charlotte, N.C.
Good news, but how good?
During the past four months, the economy has averaged 158,000 new jobs a month, notes economist Sung Won Sohn, a professor at California State University, Channel Islands. Some of this is related to an improvement in the auto sector, he notes. "Demand is rising for small business supplying to the auto sector," he says. "They have been hiring more people."
---