Economy cools as government spending drops. Wrong time for budget cuts?
The US economy posted an annual growth rate of only 1.8 percent in the first quarter of 2011, and declines in government spending were a significant contributor.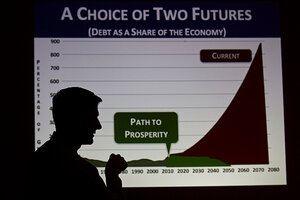 Jeffrey Phelps/AP
The US economy lost some steam in this year's first quarter, posting an annual growth rate of just 1.8 percent – too slow to support a rapid recovery of jobs lost during the recession.
The downshift, reported Thursday by the Commerce Department, stemmed in good measure from declines in spending by government at the federal, state, and local levels. In all, changes in spending by government subtracted about 1 percentage point from GDP, partially offsetting larger gains in private-sector consumer spending.
And that's before any major efforts at reducing federal spending – proposed by both President Obama and congressional Republicans – kick in.
To some economists, that raises the question: Is the recovery still so fragile that an emphasis on reducing federal spending could hurt rather than help?
Some forecasters say that by next year, the economy should be on firmer footing than today, and better able to handle a pullback in government spending. Others, however, argue that a Republican proposal outlined recently by Rep. Paul Ryan of Wisconsin is the wrong idea at the wrong time.
---