Mortgage fraud plunges 41 percent
Mortgage fraud reports are down, either because the market and industry make it harder for scammers or mortgage fraud is getting more sophisticated and going undetected.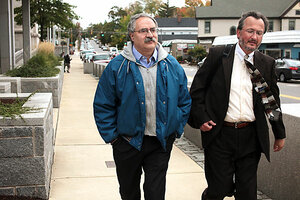 Alexander Cohn/The Concord Monitor/AP/File
Mortgage fraud reports plunged last year for the first time in several years, according to a new report, which suggests that either tightened standards and the state of the housing industry are making it tougher to perpetrate fraud – or that scammers are getting more sophisticated and going undetected.
In all, the number of reported fraud incidents dropped 41 percent between 2009 and 2010, according to a new report from the LexisNexis Mortgage Asset Research Institute.
Nevertheless, fraud still cost the housing industry more than $1.5 billion last year, the Treasury Department estimates. And the Mortgage Asset Research Institute's report concludes that losses are probably much, much higher than the Treasury's estimate. "The industry is plagued with vulnerabilities within the origination process that expose lenders to risk."
Florida remains the top state for mortgage fraud. It has topped the fraud index of the Mortgage Asset Research Institute for each of the past five years, and it has three times the expected rate of fraud for the number of loans it originates.
RELATED: Top 5 cities with the fewest foreclosures
But like the nation as a whole, the Sunshine State has seen fraud decline by nearly a third since its 2008 peak.
---
Follow Stories Like This
Get the Monitor stories you care about delivered to your inbox.