Memorial Day travel: Americans will go farther, despite gas prices
Gas prices may be high, but 35 million Americans plan on Memorial Day travel. Gas prices may change spending patterns from Memorial Day 2010.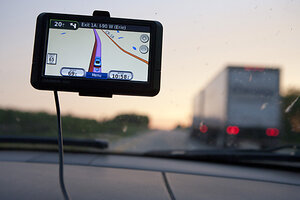 Melanie Stetson Freeman / Staff / File
Gas prices are up more than a dollar this Memorial Day weekend from last year, but Americans still plan to hit the road.
About 34.9 million Americans plan to travel this weekend, according to a study conducted by AAA, based in Heathrow Fla., and IHS Global Insight, a research and economic consulting firm based in Lexington, Mass. That's up a minuscule 0.2 percent from last year, but travelers will venture farther afield – an average of 792 miles compared with last year's 626 miles – and more will take the trip by plane.
"We seem to have gotten back to the normal level [of travel]," says Shane Norton, a senior consultant at IHS who helped prepare the study.
In 2008, 31.6 million Americans traveled for Memorial Day, and in 2009, 30.5 million traveled. The number of travelers this year and last year are on par with prerecession numbers. However, vacationers are factoring high gas prices into their travel budgets, Mr. Norton says.
For some travelers, flying may have seem like a better option than taking a long road-trip, which could be one reason for the expected 11.5 percent increase in the number of air travelers this weekend compared with Memorial Day weekend 2010.
Travelers also plan to spend 14 percent less money overall. Instead of going to festivals or theme parks, road-trippers may opt for closer destinations that are low-cost or free, like historic sites and beaches. They may also pass on fine dining and cut back on shopping.
---