2,500 pennies: Is it legal to pay a bill in pennies?
2,500 pennies: A Utah man was cited with disorderly conduct after trying to pay a disputed $25 doctor's bill in pennies. Are US businesses free to decline payment in US currency?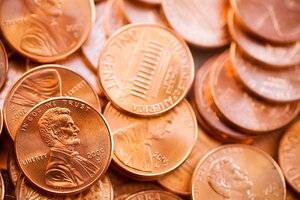 Chris Knorr/Design Pics/Newscom
A man in Vernal, Utah, has been charged with disorderly conduct after attempting to pay a disputed medical bill with 2,500 pennies, police say.
According to a story that appeared Friday in The Deseret News, Jason West went to Vernal's Basin Clinic to dispute a $25 doctor's bill. If the clinic remained unconvinced, Mr. West came with a Plan B, which involved almost 14 lbs. of pennies.
Apparently, the argument didn't go his way. According to Vernal police, West asked if the clinic accepted cash, and then dumped the 2,500 pennies on the counter, demanding that they count it. "The pennies were strewn about the counter and the floor," said the assistant police chief.
It's likely that the disorderly conduct charge had more to do with the dumping and strewing of the pennies and less to do with the currency itself. But the incident does raise a legitimate question: Are businesses required to take your pennies? A penny is, after all, legal tender. Doesn't that mean they are good everywhere?
---